+

Our Services
Our services involve  inspection & controlling service for Air/ Sea shipments to any country in the world, planning, sampling, Inspection of drug products, API & Bulk materials, verification for storage, testing, manufacturing, final release for despatch. A well-documented sampling and Inspection procedures are followed as per country specific guidelines.
Inspection & Controlling
ACS India offers  inspection & controlling services for Air/ Sea shipments to anywhere in the world for wide range of industries through leading inspection, verification, testing and certification services. ACS is established with the vision to provide trust in analytical control services global countries.
Quality Control
The company is engaged in the Total Quality Control Management for all Pharma Drugs, Chemical, Food & Cosmetic supply and shipments to global market by inspection & certification to allow to distribute quality products through continuous inspection services.
Truly Global
ACS Provides inspection and shipment controlling services to global countries. Whether your business is India specific or global, we are here to provide inspection and certification for your product shipments to meet quality, health, environmental, safety standards for any country.
+

Our Speciality
We have the competency for helping our customers to increase the value of their products, gain competitive advantage, and develop trusted brands. Through our services, we can help our clients to minimize the adverse health and environmental impact of their products and processes for the benefit of society as a whole.
ACS is also a NAFDAC approved Pre-shipment inspection Agency for goods to be exported to Nigeria.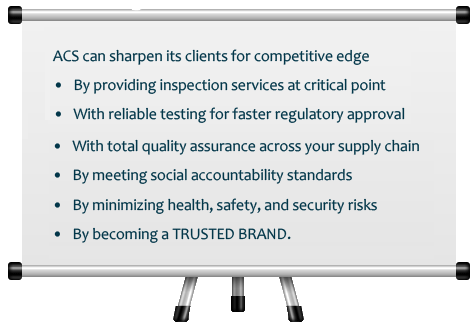 +

Why Choose ACS?
ACS can go beyond inspecting and certifying products. We can help customers to improve performance, gain efficiencies in manufacturing and logistics, overcome market constraints and reduce risk.